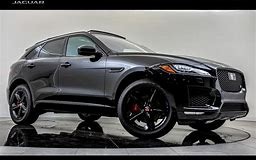 Jaguar Lease Deals UK
The Jaguar range is not hugely extensive in terms of model diversity, but what this iconic British marque concentrates on is doing the job – and doing it well.
Jaguar cars boast extremely sleek, polished exteriors, have a choice of innovative high-performance engines and promise to deliver a thrilling drive on every journey.
If you are looking a stylish alternative to rival German premium marque manufacturers' cars, a Jaguar model could well be the perfect fit for you.
Jaguar UK Model Range
The F-Pace is a hugely popular SUV and Jaguar's first ever Sorts Utility Vehicle. Its success quickly established the need for a smaller sibling within the range – the E-Pace was soon rolled out and has, as predicted, gone on to be a big hit with buyers.
The Jaguar XE executive saloon is aimed at company-car drivers and discerning individuals looking for comfort and refinement. The Jaguar XF is larger and it's also available in estate form (XF Sportbrake).
The revered XJ is the biggest car in Jaguar's range, offering luxury and comfort. It has recently been revealed that this model will no longer be produced; it is set to be replaced with an electrified (EV) version that may – or may not – carry the same moniker.
Also available in the Jaguar range is the premium sports car, the F-Type, and the firm's first electric vehicle, the Jaguar I-Pace. The latter is also an SUV, and a pretty quick one at that!
Jaguar Contract Hire from Egon Car Leasing
Egon Car Leasing makes driving a brand-new Jaguar more affordable than you may think, and there is no need to wait for a quote, either! Just click through the special offer of your choice and tailor-make your own leasing quote in seconds.
Enquire about our latest Jaguar lease deals online or contact us on 01952 290 949 to discuss your requirements.